Cabinets, Countertops & Flooring
Every design tells a story that is unique to your home and family.
We take pride in helping Eastern Shore homeowners make the inside of their homes just as beautiful as the surrounding environment! Our showroom features many displays of the most popular design trends in the kitchen & bath industry. Choose from a full selection of elegant kitchen cabinets in styles ranging from traditional to cutting-edge contemporary. To complement your new cabinetry, we also have a complete selection of kitchen & bath countertops in granite, quartz, and other popular materials.
If you are ready to remodel your home or office at an affordable price but didn't know where to begin, let Newport Kitchen & Bath assist you with your kitchen, bath, garage, and office remodeling needs. We've been doing this for a long time, offering quality products and services so you can sit back and feel the confidence that comes along with knowing that in a short time, your dream projects will be a reality.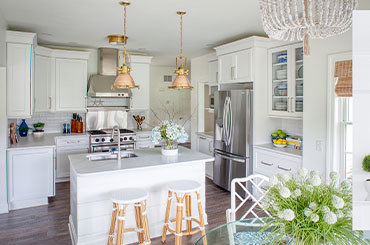 Kitchen Cabinets
& Design
The kitchen can be the heart of the home. It is where family and friends gather, enjoy company and conversation. In most homes, it is well used and should function seamlessly and stand the test of time. We specialize in kitchen design and function and will build a kitchen that will last for generations if desired. There are infinite options when it comes to kitchen design, and we are here to help you choose the best layout and features for your ideal space…let's begin!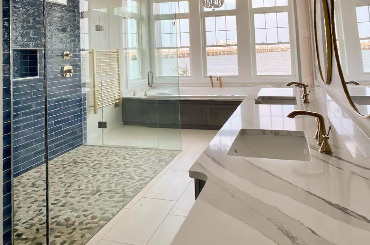 Bath Cabinets
& Vanities
Whether it the master suite bath, guest bath, or bathroom addition, these are the home's most personal areas. Each bathroom should reflect its place in your home with comfort, function, and style. Our bathroom cabinets & vanities renovation services offer an effective way of providing your home a revived and up-to-date feel.
When you are ready to create more space, add new bathroom fixtures, or update the look of an old and outdated bathroom, Newport Kitchen & Bath can help you achieve your goals.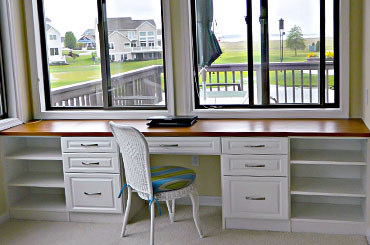 Home Office
& Closets
Custom built-in cabinets, cubbies, dividers, and storage drawers are our specialty areas, and we work with you to ensure that home and office storage is created to fit your demanding needs or work. Decorative doors, LED lighting, and a wide array of countertop options add flair and personality to your surroundings.
Whether it's a small niche or a large home office, we will create a modern cabinet storage system that helps keep your home organized and free from clutter.
Learn more about Newport Kitchen & Bath
---
Kitchen & Bath Cabinets
Call For Availability
---
Kitchen and Bath Countertops
Newport Kitchen & Bath is also a leader in high quality kitchen remodeling services including countertop, wall tile, backsplash and cabinet installation. We select the highest quality countertops that will add a touch of elegance and luxury to your kitchen. Visit our kitchen countertops below to see the Quartz, Granite & Marble manufactures that we carry.
---